Urbana Vinyl Pergolas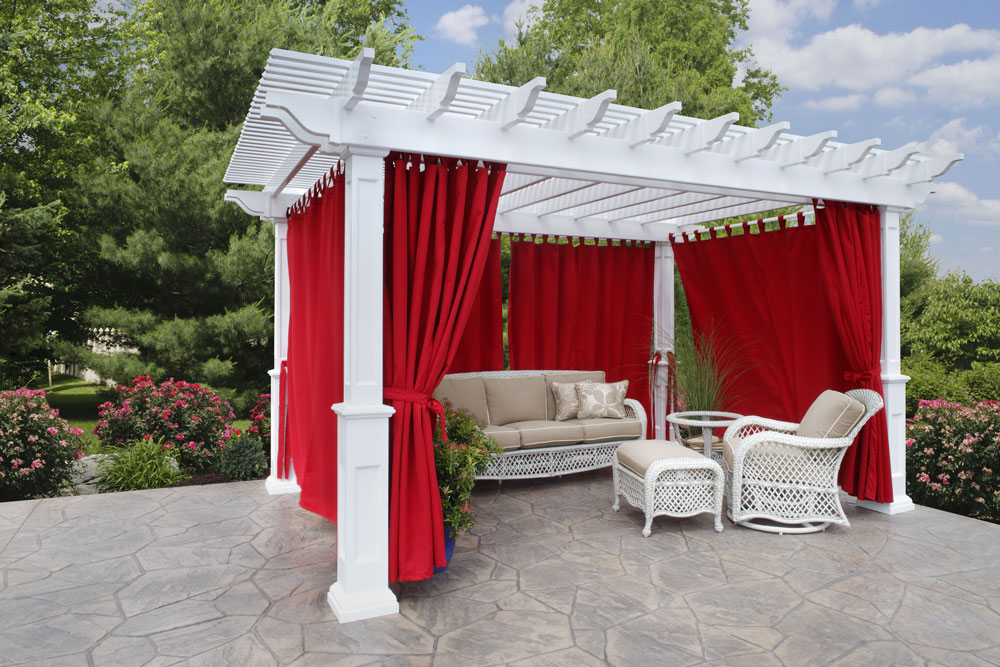 12' x 16" Vinyl Pergola in White Vinyl, Savannah Posts, Regular Shade and Canvas Jockey Red Curtains
Urbana Vinyl Pergolas
BG17-VinylPergola
How Can We Help?
We are happy to help you select the wood, stain, hardware and the fabric or leather for the item that you are interested in.
A sales associate will respond to your inquiry.

When designing your luxurious outdoor living area, you will certainly want a few options to complete the perfect experience. Whether your tastes are classic or contemporary, these vinyl pergolas offer multiple styles of shades and posts, as well as colors that are sure to blend with your decor.
Dimensions:
See small supporting images
Standard Features:
- Treated 6" x 6" wood post inside vinyl post sleeves
- Regular shade slats with 16" spacing
- Anchor brackets
- Standard white color
- 20% additional charge for Clay color
- 25% additional charge for Black color
- Available in kit form
- Built on-site if less than 100 miles from store
- Engineered to meet all local building codes
- Can be free-standing or anchored to a permanent foundation
Optional Features:
- Pergola Curtains, Privacy Panels and Dia Shade
Pergolas are large items that require delivery to your location. Visit our Pergola, Pavilion and Gazebo Delivery Page for the delivery charges based on your location.
Please call or visit the store for more information.