Winchester Bridge Wall Unit Entertainment Center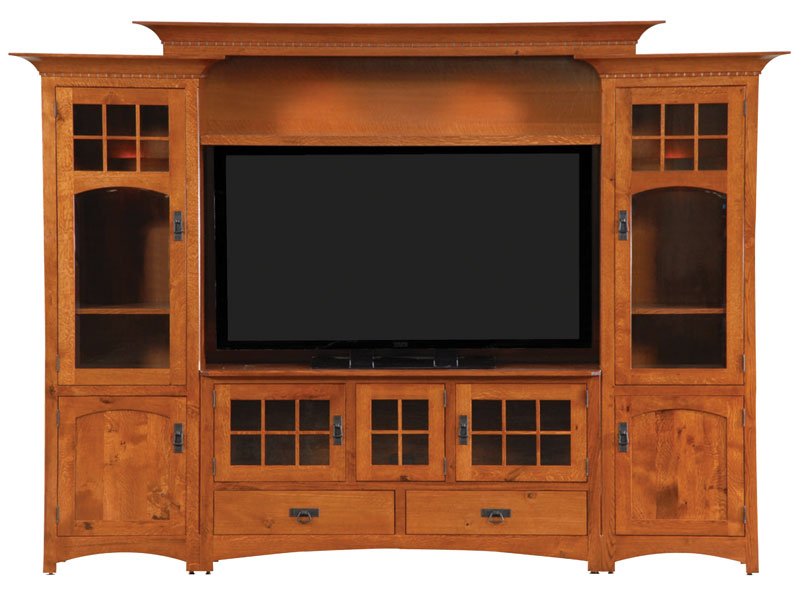 Winchester Bridge Wall Unit Entertainment Center in Rustic Quartersawn Oak and an OCS 113 Michaels Stain
Winchester Bridge Wall Unit Entertainment Center
IWP15-WB222
Red Oak, Quartersawn White Oak, Cherry, Brown Maple, Rustic Cherry, Rustic Quartersawn White Oak
How Can We Help?
We are happy to help you select the wood, stain, hardware and the fabric or leather for the item that you are interested in.
A sales associate will respond to your inquiry.

Dimensions:
See the small supporting images

The Winchester Bridge Wall Unit Entertainment Center is available in TV opening sizes of 45", 51", 60", 67" or 72".
Overall Standard Features: (for a complete list of standard features see supporting images)
- 83" Tall (67" -88"Tall)
- 16.5" Outside Body Depth
- 15.5" Inside Body Depth
- 34" -38" High TV opening (67" and up = 39" - 43")
- 99.5", 105.5", 121.5", or 126.5" Wide
- (2) Recessed Can lights in bridge
- (1) Adjustable shelf under bridge
- (1) Adjustable shelf in Center console
- (1) Adjustable shelf in bottom section of each bookcase
- (1) fixed shelf with tube light in each bookcase
- One- touch switch connected to the top right bookcase hinge (operates both tubelights and can lights in bridge)
- Special L Shaped Channels mounted on the back of each piece, Holds TV back in place.
- 4"H x 6"W Cord Access hole in TV Back area
Optional Features: (additional charges may apply)
- Power Strips (USB &110 Power)
- Heat Ventilation Fans
Call or visit the store for more information.