Arts & Crafts Pendulum Clock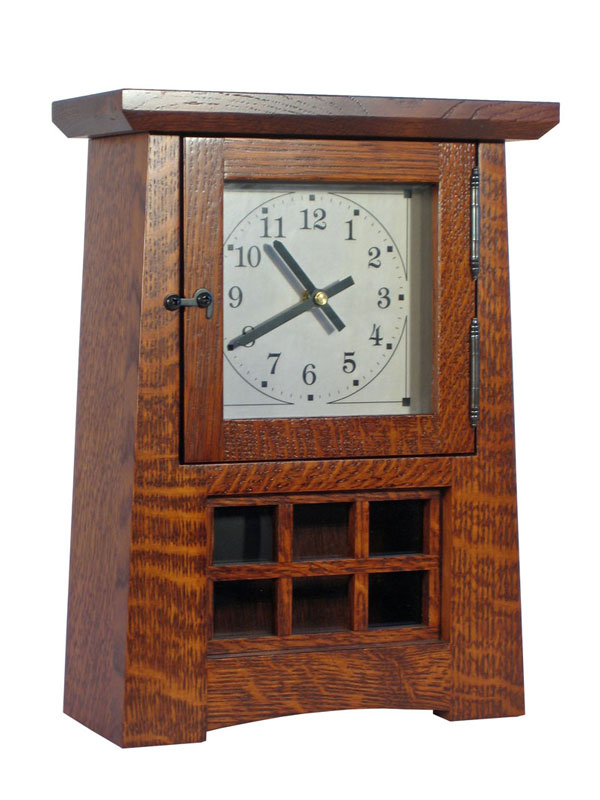 Arts and Crafts Pendulum Clock in Quatersawn White Oak with OCS-113 Michael's Stain
Arts & Crafts Pendulum Clock
Q10-00081
Red Oak, Quartersawn White Oak, Cherry, Brown Maple, Hickory
How Can We Help?
We are happy to help you select the wood, stain, hardware and the fabric or leather for the item that you are interested in.
A sales associate will respond to your inquiry.

Dimensions:
13.5"H x 10"W x 5"D
Keep time in style with these beautiful hardwood clocks. The Arts & Crafts Pendulum Clock is offered in the 'striking chimes' or 'non-striking' format. See variations to the right of the pictures for these choices. The Arts and Crafts Pendulum Clocks are offered in either Cherry, Oak, Quartersawn White Oak, Soft / Brown Maple or Hickory woods.
All styles have quartz crystal controlled electronic movements for precise timekeeping and low maintenance.
Call or visit the store for more information.