62 inch Traditional Computer Roll Top Desk with Pull-Out Return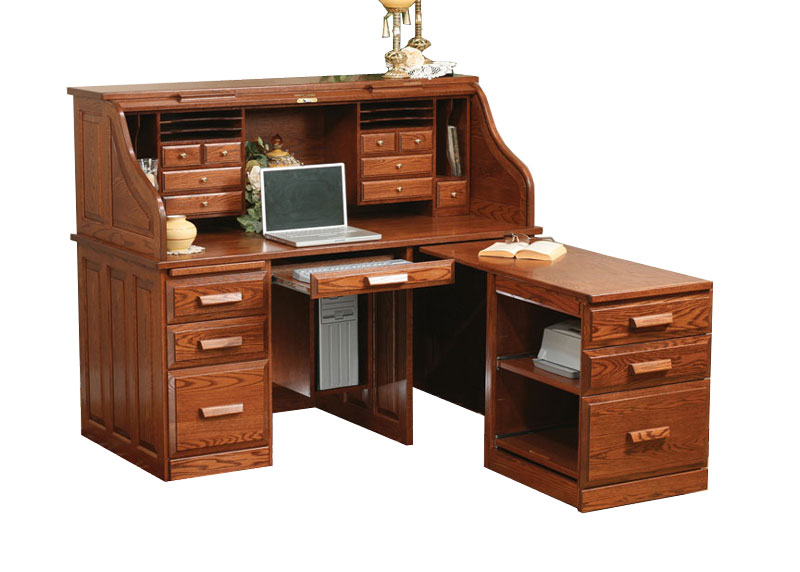 62" Traditional Computer Roll Top Desk with Pull Out Return in Oak with OCS-111 Boston Stain
62 inch Traditional Computer Roll Top Desk with Pull-Out Return
VF10-3062CRT-POR
Red Oak, Quartersawn White Oak, Cherry, Brown Maple, Walnut, Hickory, Rustic Cherry, Hard Maple, White Elm, Rustic Quartersawn White Oak, Rustic Hickory, Rustic Walnut
How Can We Help?
We are happy to help you select the wood, stain, hardware and the fabric or leather for the item that you are interested in.
A sales associate will respond to your inquiry.

Dimensions: (see small supporting image)
Roll Top Desk: 30"D x 62"W x 51 1/2"H
With Drawers on Top: 30"D x 62"W x 55 1/2"H
The Pull Out Return gives you additional space for a printer, scanner or storage yet can be neatly tucked away when not in use.
Optional Features: additional charges apply
- Drawers on Top
- Locks on Drawers
- Inlaid Leather Writing Pad for Desk
- Mission Style
- Black Accents on Mission Style
- Secret Compartment (bottom of pedestal)
- Secret Compartment (in cubby hole drawer)
- Roll Locks and Knobs
- Raised Panel Backs
- Small Storage Drawers
Be sure to see other sizes and styles of Roll Top desks in our Desks category.
Call or visit the store for more information.