Flash Player Required
This object requires flash player.
Adobe Flash Player is free, and can be dowloaded
here
.

Main Store Location
1770-B Main Street
Peninsula, OH 44264

Downtown Store Location
1663 Main Street
Peninsula, OH 44264

Main Store Hours


Monday: 2pm to 9pm
Tuesday: 12pm to 6pm
Wednesday: By appointment
Thursday: 12pm to 9pm
Friday: 12pm to 6pm
Saturday: 10am to 6pm
Sunday: Closed

Downtown Store Hours
Sunday to Wednesday: Closed
Thursday & Friday: 12pm to 5:30pm
Saturday: 10am to 6pm

For your convenience, the Staff of Ohio
Hardwood Furniture will happily show
clients furniture located in either closed
location as needed.



Open late on Monday and Thursday for your convenience!
Phone Numbers: Toll Free (877) 660-3882 or Local (330) 657-2095
Ohio Hardwood Furniture represents the combined efforts of a millwork manufacturer and several Amish furniture builders and finishers. The primary, solid, hardwood species used are Red Oak, Cherry, Brown Maple, Quartersawn White Oak and Grey Elm. Many different stain colors can be selected for your piece along with customization of the size and design to fit your space.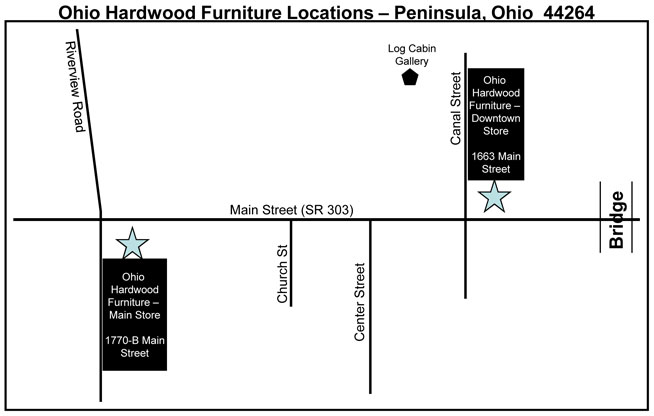 Be sure to see our Clearance Items,
as from time to time we do have certain
items that will be available at clearance prices.