About Us
Ohio Hardwood Furniture is the combined efforts of a hardwood lumber mill and several local woodworking and furniture manufacturers. The standard designs that you see listed can be custom tailored to fit your needs and space.
The combination of your design choice along with the hardwood and stain color selection will create your unique, distinct piece of furniture. Totally original designs can be drafted to address specialized spaces or unique functional needs.
The furniture is delivered by our company vehicle to homes and businesses in Northeastern Ohio. Specialized furniture movers package, insure and deliver the furniture to locations beyond the range of our local delivery route. The cost of delivering the furniture is clearly quoted before an order is processed. The customer is welcome to pick up their furniture from either the retail store at 1770-B Main Street, Peninsula, OH, or at our mill location at 9399 Lattasburg Road, West Salem, OH. Please let us know which is more convenient to you.
The pricing terms are 40% down when the order is placed and the balance due upon delivery. We accept Master Card, Visa, Discover, American Express and personal check.
We are open every day of the week except Wednesday, with varying hours to serve you. Appointments are also available to discuss your particular project. See the Ohio Hardwood Furniture Contact Us page for our current hours.
Peninsula is located in the heart of the Cuyahoga Valley National Park. Along with visiting our store, you can shop in a craft store, galleries, eat lunch, ride the scenic railroad and walk or bike on the 260 miles of tow path trails. www.explorepeninsula.com gives details of everything that Peninsula has to offer.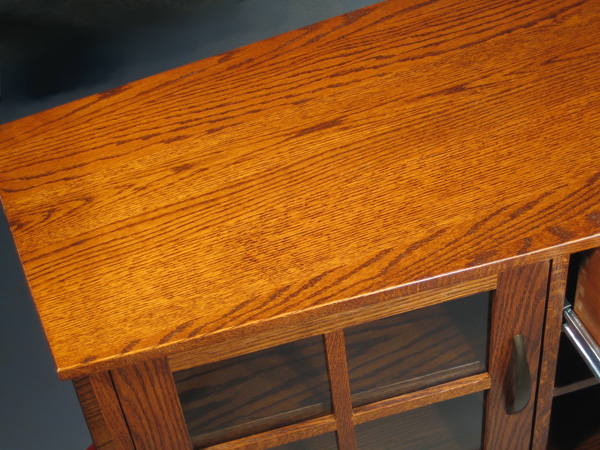 Clean, natural energy grows the trees that produce wood products. The growth of wood is generated by solar power, the sun, and requires no power to irrigate, as this is done through natural rainfall. Sure, fossil fuel will be used in the harvest of the logs, however this is an extremely efficient process and harvesting will only occur in an area after decades of growth. An important fact to remember about wood is that it stores carbon within its fiber. Trees absorb carbon dioxide from the air during their growth and return pure oxygen to the environment. Once the carbon is stored in the wood, it remains there until the wood completely decomposes. This stored carbon makes up nearly half the woods dry weight.
The hardwood lumber that we use to manufacture our furniture grows in sustainably managed forests
Trained foresters use green techniques to determine when wood should be harvested to keep forests healthy and productive.
A good example of such techniques is selective harvesting. Instead of clear-cutting width patches of land, specific trees or small groups of trees are designated for harvest to minimize the impact on the environment.
Only carefully selected trees are removed. A healthy mix of different tree species of different ages is left behind, and loggers take care not to damage vegetation or soils as they go. Instead of returning to cut more trees in 7-10 years (as is the case with fast-growing replacement tree farms), loggers typically wait up to 30 years to allow the forest to regenerate.
Sustainable manufacturing practices include minimizing waste wood and re-using byproducts i.e. bark becomes mulch and trimmings are processed into paper.
The slab wood from the sawmills is used to heat our shops and homes. The sawdust from the sawmill and moulder mill is used to bed livestock and horses. The waste edgings and chips are reground for landscape mulch.
Our line of Poly Lumber Furniture is another example of a green manufacturing practice. This line of furniture is made 100% from recycled milk jugs. Click here to read more about this manufacturing process.